Dental hygiene students ready to scale new heights in 2018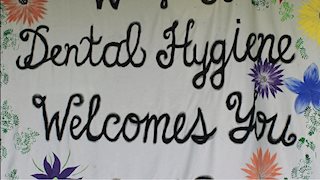 The West Virginia University School of Dentistry Department of Dental Hygiene welcomed a total of 30 new students for the fall 2018 semester.
They include:
Lauren Bane, Kelsie Bishop, Jordan Clark, Natalie Clingan, Baylee Fitzwater, Madylin "Mady" Hinkle, Lindsey Kiger, Gregory "Greg" Lail, Darbi Luther, Brooke Nash, Reese Prezioso, Emma Rice, Makennah Rursch, Samantha "Sam" Shives, Caylie Simmons, Jessica Stroupe, Kaylee Wellborn, Madelyn "Maddy" White, Kaci Zopp, Macie Zumack, Hashim Abualrahi, Samantha "Sami" Alioto, Kelsey Cummings, Merranda Lackey, Anna Moser, Sherry Taylor, Kasie Stewart, Abby Vavrick, Alexis "Lexy" Volentir, Sydney Williamson
Photos: Dental Hygiene Welcome 2018
Those men and women join the existing 52 sophomores, juniors and seniors already working toward a Bachelor of Science degree in dental hygiene.
Each year, the department hosts a welcoming session to discuss academic standards and program guidelines.
The gathering serves as a reminder for returning students but also matches an upperclassman with each new student to act as a mentor during their transition into the WVU School of Dentistry.
The WVU Department of Dental Hygiene has the reputation for producing outstanding clinicians and graduates are very successful in post-graduate programs including medicine, dentistry, business and law.
Since 1999, dental hygiene has been distinguished as a "Program of Excellence" by the West Virginia Board of Governors.
sswg